Archbishop of Canterbury makes surprise visit to Gaza
08-05-2017 15:22
Source: The Guardian
The archbishop of Canterbury has made a surprise visit to Gaza during his 12-day tour of the Holy Land.
Justin Welby spent three and a half hours in the Gaza Strip, which has been the scene of repeated conflicts over the past decade and is governed by the militant group Hamas.
The archbishop, who was accompanied by the Anglican bishop of Jerusalem, Suheil Dawani, and two aides, was granted Israeli permits and given security clearance at the last minute, after earlier this week seeking permission to enter the Gaza Strip.
Welby described his short visit to the densely populated and impoverished territory as "extraordinary". About 1.9 million Palestinians live in Gaza, which is surrounded on three sides by walls and fences and blockaded by the Israeli navy along its coastline.
Gaza has a tiny, mostly Orthodox, Christian population of about 3,000. Although they have faced intimidation and threats from some Islamist groups in the past, they are tolerated by Hamas, which has ruled Gaza for the past 10 years.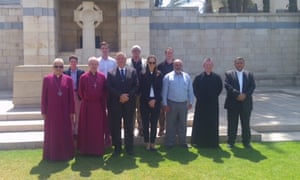 In Gaza City, Welby visited St John' Eye hospital and al-Ahli Arab hospital, which is under the auspices of the Episcopal Diocese of Jerusalem. The archbishop, who led a service in the hospital chapel, said the "generous humanitarian care" was inspiring.
He also laid a wreath at the Commonwealth War Graves Commission cemetery, which is home to more than 3,000 graves from the first world war. Welby's maternal grandfather fought in Gaza.
Gaza is in the middle of a power crisis, with residents facing blackouts of up to 20 hours a day, according to the UN. The Palestinian Authority, based in Ramallah in the West Bank, has said it is to stop paying for electricity supplied to the Strip. The PA's intention is to put pressure on Hamas.
During his trip, Welby is to visit Bethlehem to meet the city's Christian mayor, Vera Baboun. He will also meet Palestinian Christians whose homes, land and livelihoods have been adversely affected by the huge concrete wall that cuts Bethlehem and adjacent villages off from Jerusalem. He also plans to visit the West Bank city of Hebron.
• This article was amended on 5 May 2017 to clarify when Welby sought permission to enter the Gaza Strip.
---
Topics :
#Christianity
#Archbishop of Canterbury
#Israel
#Palestine
#UK
#Gaza